Ideal for: Family, friends, party, corporate, weddings & wellness.
Perfectly poised on a quiet corner section of the Samujana estate and with breathtaking views, this villa is the epitome of contemporary and deluxe living. Each of the four bedrooms features an en suite bathroom with freestanding bathtub and rain shower. The villa has an open plan and fully fitted guest kitchen, a generous open-air living area, an intimate air-conditioned TV lounge and an immense infinity edge pool.
YOUR PLACE TO…
Sleep: 4 king beds – 8 adults. Maximum extra beds – 1 rollaway & 1 crib per villa. Hairdryers & in room safes in all bedrooms
Entertain: Television lounge with LCD TV, centralized sound system, full service kitchen & full guest kitchen
Be Active: Saltwater pool perfect for swimming laps
Refresh: Rain showers, oversized bathtubs, landscaped gardens, space to breathe, unsurpassed views from all rooms
Connect: Complimentary wireless internet throughout
Chill: Outdoors lounge, lawn area, extensive pool deck, indoor lounge, private deck for master bedroom
Enjoy: Fully equipped kitchen, private parking at the villa, full backup generators, uniformed security
Villa Highlights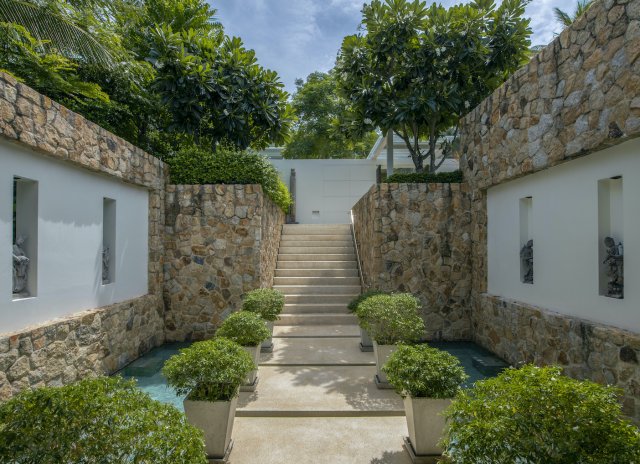 Dramatic Entrance
You'll be greeted by one of the best entrances, each step down into your villa brings you closer to the view.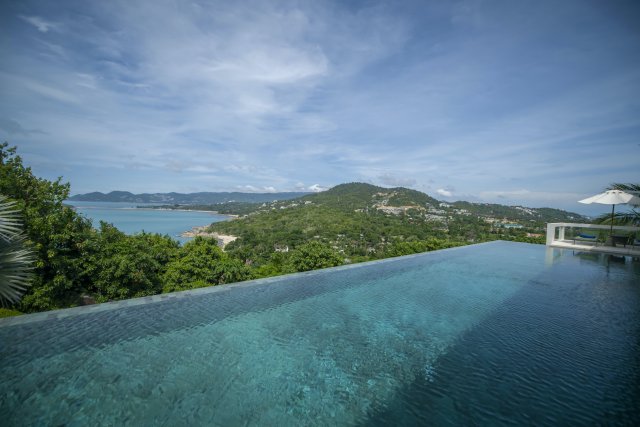 Perfect Pool
With a sun deck to soak up the rays, this pool is refreshing and long enough for laps.
Video