Samujana is located a short 10 minutes from the airport in the Choeng Mon area of Koh Samui. There's a plethora of attractions and activities to enjoy in Koh Samui, and its surrounding islands. Indulge in a fantastic mix of cultural immersion and adventures in the jungle or at sea.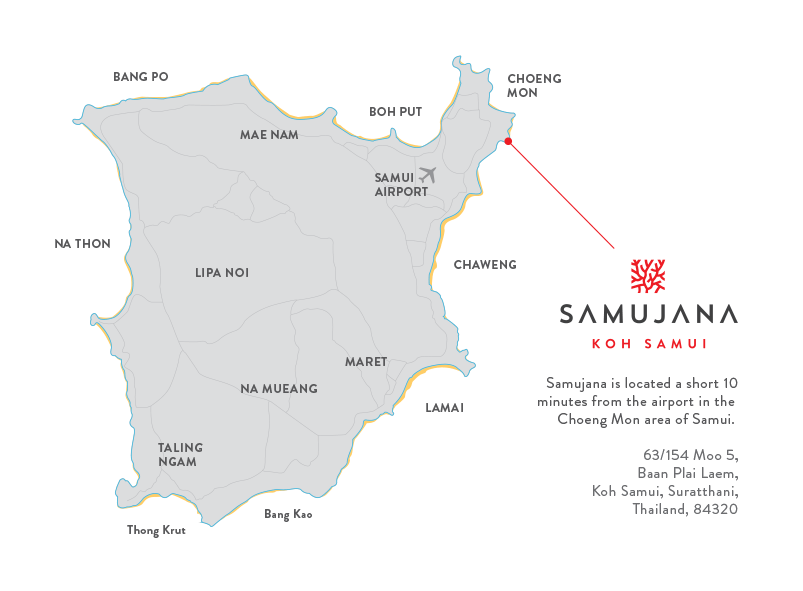 By Air
Koh Samui is easily accessed by direct daily flights from Bangkok, Phuket, Singapore, Hong Kong and Kuala Lumpur and almost all Samujana guests arrive by plane. Most flights are operated by Bangkok Airways who codeshare with Emirates, British Airways, Etihad, Aeroflot, Air Astana, Air Berlin, Air France, Cathay Pacific, EVA Air, Finnair, Garuda Indonesia, Japan Airlines, KLM, Lao Airlines, Malaysia Airlines, Qantas, Qatar Airways, Silk Air and Thai Airways. Direct flights are also bookable on Thai Airways and Firefly from Malaysia. Let us know if we can help in any way with your flight bookings.
By Land
Even though it is an island, Koh Samui is easily accessible by land via a 90-minutes car on ferry from the mainland. If you are planning to drive to the island from Bangkok, Phuket, Singapore or Malaysia, please let us know so that we can help arrange your ferry tickets and provide maps and directions, if required. We often host luxury car and motorbike associations at Samujana who have driven from as far afield as Singapore. The quality of roads in Thailand is very good and the ferry crossing provides a good opportunity to stretch your legs, breathe the salty air or even have a Thai massage. A slightly more adventurous to get to Koh Samui would be by train or bus. Trains from Bangkok stop at Suratthani Station on the mainland. After a shuttle bus transfer to Donsak port, you will embark on the ferry ride to Koh Samui. Please let us know if you require transfers from the ferry port to Samujana.