Thailand is a land of perpetual summer, right? Why would anyone have to worry about weather?
Thailand has great warm weather, that's true, with beaches and lots of sun. But it has its own seasons, and they may affect the honeymoon destination in South East Asia you'll want to visit. Depending on what you'd like to do during your stay in Thailand, you'll need to know whether it's going to be hot, dry, or rainy.
THE DIFFERENCE BETWEEN NORTH AND SOUTH
Northern and southern Thailand have slightly different weather. Thailand stretches a long distance, and so you have a different climate in some regions.
Norther Thailand, the region north of Bangkok, has three seasons that are noticeably defined (hot, dry, and rainy). Southern Thailand tends to have two noticeable seasons (rainy and dry). However, the seasons are not the same across this southern peninsula-shaped region. The west coast has a wet season from April to October, while the east coast sees their wet season from September through December.
The further south you go, the more rainfall Thailand receives.
THE DRY SEASON
The best time to visit Thailand is during the dry season, which is from December to February. Temperatures are cooler (for Thailand, that is), and it is a bit more comfortable than during other times of the year.
During the dry season, the days are warm with lots of sun and light winds. Only the occasional shower occurs, and certainly nothing to waylay serious vacation plans. For those who love water sports, the dry season also boasts calmer seas, making it the perfect time for snorkeling, diving, windsurfing, and sailing.
All of this peak-season goodness also means that you'll find Thailand more crowded at this time than any other, and you can also expect to see higher rates for hotels, excursions, and other activities.
THE HOT SEASON
If you'd like to avoid those peak season crowds and rates, March and April might be a good compromise as long as you can stand the heat. The days become quite hot, which is great for beach bums and those who want to enjoy water sports.
Late afternoon thunderstorms are not uncommon, as the rainy season is starting to roll onto the calendar. While the thunderstorms help reduce daily temperatures, humidity is quite high. If you are planning to hike or other non-water-based outdoor activities, you may prefer the more temperate peak season.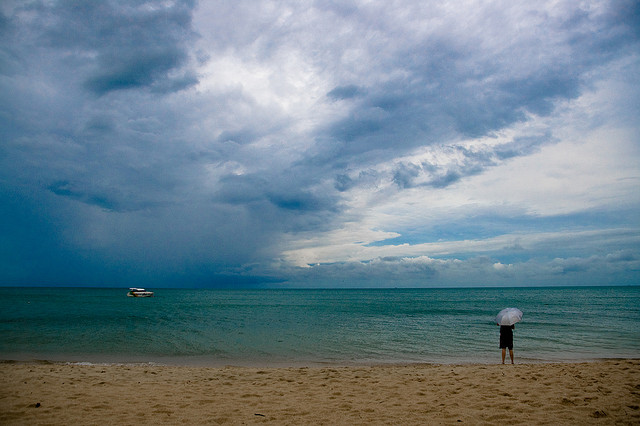 THE RAINY SEASON
As September rolls around, monsoon season sets in. The weather is unpredictable. Short and heavy bursts of rainfall are likely to occur, and out on the water the winds are strong and the waves are rough. Diving and other water sports are not ideal during this time, as the water will be churned and murky.
The monsoon season can be quite intense, and there are sometimes bouts of flooding and heavy water in some parts of Thailand. However, rates and fees are at their lowest during the rainy season, and you may have planned activities that aren't affected. You'll save money and still have a relaxing vacation by the sea. It will always be warm enough and sunny enough in Thailand to enjoy the beach.
WHAT ABOUT KOH SAMUI?
Koh Samui is an island located northeast of the Khanom district in central Thailand. It is situated in the Gulf of Thailand on the east side of the peninsula, hovering far enough south of Bangkok as to be considered part of the southern section. However, it has those three seasons you might see in the north, though not as extreme.
The Gulf of Thailand has an effect on the weather of Koh Samui, and so it is slightly different than some of the other popular mainland resort and vacation hot spots. Phuket and Krabi, for example, are located in the Andaman Sea to the west, and the weather is slightly different due to the west-east effect on the seasons.
Koh Samui is a typical tropical island. Nearly every day has a "summer" kind of weather, with temperatures that range from 24°C to 33°C, so there is always lots of things to do in Koh Samui.
HOW TO PLAN FOR THE WEATHER
Knowing what weather to expect during your visit means that you'll know what kinds of activities you should and shouldn't book, and what kind of clothes will be useful. Research the weather at your destination before buying any tickets. Find out what activities are viable for when you'll be in Thailand. It doesn't hurt to frequently check the weather forecast ahead of time, before you arrive.
It is the rainy season that has the most effect, with people not aware they won't have the same results with diving and snorkeling that they would during other times. You should also know if you plan on traveling to an area adversely affected by monsoon flooding before you make plans.
Depending on whether you are planning to visit the northern parts of Thailand, and the higher altitudes, will also affect how you pack and what kind of activities you will want to do. It can be quite chilly at night in some of the far northern destinations during November to February. Even in the hottest months in southern parts of Thailand, the air conditioning in the hotels can quickly chill you. Bring along your warm weather gear, but throw in a shawl or light jacket that you can quickly pull on if the weather (indoors or out) cools down.
If you are trying to pack for rainy season, remember your electronic gadgets. Include plastic bags that you can securely fasten shut to protect them from getting wet. Some serious travelers even toss in a few silica gel packets to ward of humidity and dampness for their electronic gadgets. Perhaps the easiest solution is to not bring them if possible (make it a true vacation!).
With hot weather, it is important to know if you or members of your party are not accustomed to or able to handle extreme heat very well. Heat stroke and other serious health problems can occur in those not used to such temperatures. You might want to avoid the hot season altogether, particularly if outdoor adventures or touring are the activity you have planned. April is the hottest month, and you'll likely find yourself uninterested in anything but being in the water.
But remember this: Thailand has notoriously gorgeous weather! For ten of the twelve months, it is a warm and sun-drenched destination for beach bumming, swimming, and soaking up the warmth.
If you are planning a relaxing, unforgettable vacation in Thailand or Koh Samui, why not stay in a secluded villa with private pool at Samujana.
Image: by Greg Knapp.