Thailand is a safe place for traveling with children and babies. The culture is very family oriented, and that includes your family, too. With a few considerations, your trip to Thailand can be safe and a lot of fun for everyone.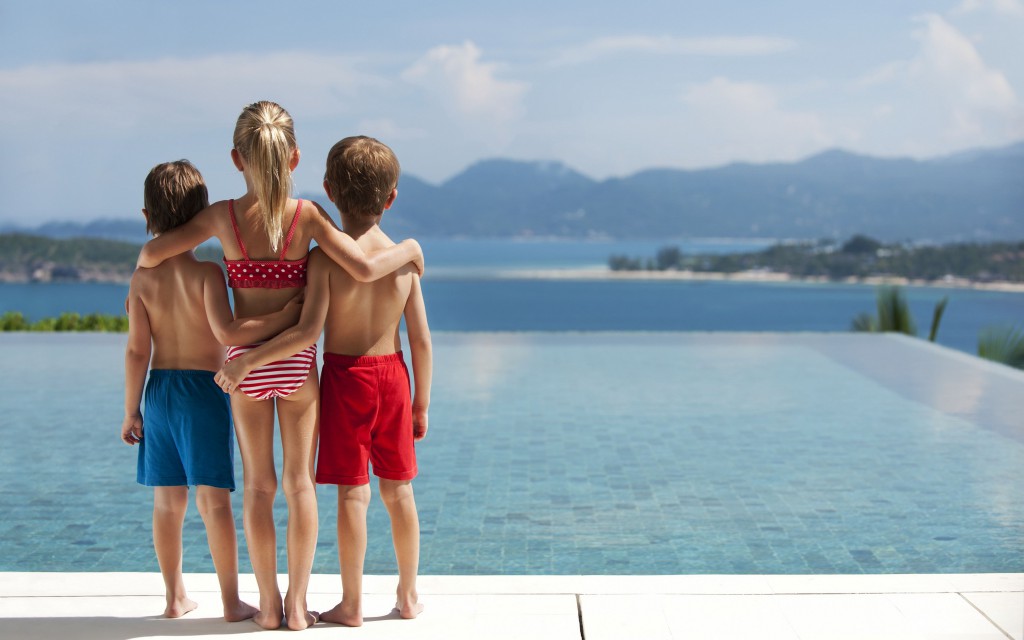 1. DIRECT CONNECTIONS ARE BEST
It is tempting to try to save money by buying tickets for flights or trains that aren't a direct route. That might be a great idea if it's a group of adults, but when you have young children with you, you'll regret it.
Circuitous routes take more time, have more transfers and possibilities for losing bags. Just like adults, children get tired. Combine that with Thailand's heat, and you're very likely to have some worn out and possibly fussy children at the end of the day. You may have saved a bit of money, but your family experience will pay for it. You'll have to spend more time recuperating than if you'd taken the direct route and arrived sooner.
Choose your transportation around Thailand carefully, and be willing to spend the money for the most safe and direct route.
2. VARIETY IN ACTIVITY IS NECESSARY
They say that variety is the spice of life, and when it comes to entertaining children, that's very true. Your dream vacation might be two weeks straight on the beach, but kids are going to need a change of scenery and activity.
Plan activities that include something everyone can enjoy. Definitely have a few beach days, but ask what your family wants. Perhaps hiking, water sports, golf, or tours of fantastical temples would be interesting.
There is plenty to do in Thailand. It's a shame for anyone to feel bored. Do some research before you leave and discover the activities that are geared for children.
3. MAKE GOOD FOOD CHOICES
Thailand is home to some of the world's best restaurants. Your young children may not always appreciate it, though, if they are unaccustomed to the flavor. While there are always many wonderful mild Thai dishes you could try, don't worry.
First off, there is every imaginable kind of restaurant. Italian, French, American, Mexican–if your children won't eat Thai food, they will still have plenty to eat.
Secondly, come prepared with a few snacks. Finding a corner gas station is an easy feat in most of Thailand. Grab a few snacks that will hold up in the heat, just in case your child gets the munchies.
Third, don't eat from a street vendor or place that others aren't eating from, or that you don't feel confident about. Children have sensitive stomachs, and the last thing you want to deal with is a child who is sick.
4. ALWAYS HAVE WATER ALONG
Thailand has different seasons, but all of them veer towards warm. The entire family should stay hydrated, but children especially so. Dehydration leads to headaches, tiredness, and irritability at the beginning, and far more serious problems if it progresses.
Carry bottled water with you and have it readily available. Do not drink the water in your hotel or at restaurants unless it is bottled or purified.
5. RESEARCH THE FAMILY-FRIENDLY LOCATIONS
Thailand has its fair share of adult entertainment, and otherwise family-friendly towns can become something more suited to adults when the sun goes down. Though Thailand is safe, you may not want to expose your young children to the nightlife. Research which places are best suited for children in the evening, and which ones are great during the day.
6. PREPARE YOUR CHILD IN ADVANCE
Vacations are always more memorable if your child knows a bit about the country and its culture in advance of arriving. Thailand, with its unique culture and wonderful flora and fauna, is an excellent example of a destination that's begging for this treatment.
Let your children know about the weather, the temples, the history, the animals. Talk about the ocean and some of the wonderful landscapes they might see. This helps them understand what they experience in a better way.
7. HAVE EVERYTHING YOUR BABY NEEDS
Traveling with an infant is a challenge, no matter where you are going. During the long flight, they will experience the compression and decompression of takeoff and landing, as well as being in an airplane for many hours. If you are certain that you want to travel to Thailand with your baby, be sure that you have the necessary travel papers and vaccinations that your baby should have.
While baby supplies are common in Thailand, and not difficult to find, you may want to bring your own if your child is fussy towards a specific brand, or has allergies or other requirements.
8. YOUR FIRST DAY SHOULD BE A RELAXING DAY
Whether you got a direct flight or not, the first full day in Thailand should be relaxing. Everyone will be experiencing tiredness from travel. Plus, your child needs to acclimate to the time zone, the climate, and the understanding of new surroundings.
Don't plan any huge activities your first full day in Thailand. Take it easy and let everyone get rested and ready for the rest of the vacation. Consider keeping your mornings as the time when you do the activities, and the afternoons and evenings for relaxing fun. Mornings are cooler, and your child will be more refreshed and lest prone to public breakdowns or weariness at the start of the day.
9. KEEP COOL WHEN NECESSARY
If the heat is getting to your child, don't be afraid to go into a 7-11 store or a mall. Enjoy a respite from the heat and take in the cool A/C as needed. The more uncomfortable your child gets, the more likely they'll show it with fussy behavior or crying.
It's perfectly OK to take advantage of a little A/C now and then.
10. TAKE ADVANTAGE OF BABYSITTING SERVICES
Some hotels and resorts offer babysitting services. Make use of the offer once or twice, and give yourself a chance to have a break and enjoy a bit of Thailand on your own.
The Thai people are wonderful with children! Your family will not only love the culture, the beach, the food — they will be loved by the Thai, too.
For more information on luxury family holidays in Thailand, visit the Samujana Resort.