Thailand: one of the most beautiful, exotic islands in South East Asia, packed full of culture, tropical weather, history and fun-loving nightlife. And for many foreigners and travellers this tropical paradise has everything to offer for a perfect holiday getaway. Some visitors of Thailand enjoy their stay so much they choose to buy their very own luxury villa or home, either to relocate or for a holiday home. According to the BBC there are currently over 40,000 Britons residing in this Asian paradise, with the number choosing to relocate ever increasing.
But owning a home in Thailand isn't straightforward if you are not a Thai national. Here at Samujana, our luxury villas are available to rent or own to nationals or any other foreigner visiting our resort. We understand the process of Thailand home ownership and have summarised it in 3 easy to follow steps.
STEP 1: FIND THE RIGHT LOCATION FOR YOUR LUXURY HOME
Finding the right location in Thailand isn't just about what area you like the most, you need to consider the value of properties in each area along with the availability. The most popular locations for foreign investments are: Chiang Mai, Bangkok, Koh Samui and Phuket.
The Thailand Real Estate Outlook issued by the National Economic and Social Development board is a good starting point to find out the value of properties in different locations and any real estate trends in Thailand.
It is also a good idea to familiarise yourself with the Thai real estate terms and facts before looking into buying a luxury villa or home in Thailand, so you know what to expect throughout the buying process.
STEP 2: CHOOSE THE RIGHT OPTION FOR VILLA OWNERSHIP
OPTION 1: A 30-YEAR LEASE ON YOUR HOME
When looking to own a Thai home, one option you may decide upon is to take out a 30-year lease on a property. With these kinds of leases you can apply to renew them twice, therefore sometime referred to as the 30+30+30 leases.
As foreigners cannot claim ownership over land as freehold, the 30-year lease is one of the preferred methods of acquiring a property through leasehold.
You can safely acquire the right to use Thai land and register the right for a maximum lease term of 30 years at the Land Department. Terms of the lease apply and will require a registration fee and stamp duty to be paid based on a percentage of the rental fee for the whole lease.
It is important to understand that the lease is only initially guaranteed for the 30-year term and renewal of the lease is based on reapplying for another lease. There is no automatic right to renew and it can be difficult to remain the leaseholder for an additional 30 years. To find out more information here about Renewing a 30-Year Thai Lease.
OPTION 2: INVEST MONEY IN THAILAND FOR PROPERTY OWNERSHIP
Bringing in money to invest in this part of South-East Asia is looked upon favourably as an investment into the kingdom.
Any acquisition of land in Thailand must be in accordance with rules, procedures and conditions set by the Ministerial Regulations, which can be found here.
If you're looking to bring in an investment into the country, you must bring in at least 40 million Baht, which is equivalent to approximately £733,500 or $1,115,000.
OPTION 3: SET UP A LIMITED COMPANY THAT'S AT LEAST 51% THAI OWNED
One of the most popular options for foreign or British investors is to set up a limited company in Thailand, of which at least 51% of the business in owned by a Thai investor and with a minimum of seven shareholders at all times.
It is sometimes preferred when buying a luxury family villa in Thailand that the limited company being set up has as least 61% Thai owned, to avoid investigations when acquiring land/property.
If this is an option for you, you also need to consider the registration fee that applies for Limited Companies: 5,500 Baht for every million Baht of capital. For example, if the amount of capital you are investing into the company is 10 million Baht, the registration fee would come to 55,000 Baht. For more information on the terms and conditions of setting up a Limited Company in Thailand, click here.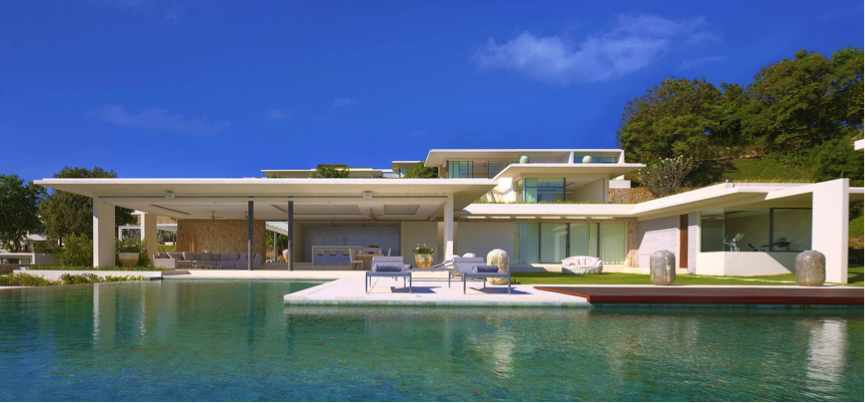 OPTION 4: ACQUIRE A USUFRUCT INTEREST FOR BUYING A HOUSE IN THAILAND
A Usufruct Interest is similar to a lease; it grants legal right to control another person's real estate property. A Usufruct Interest can be successfully renewed after a maximum 30-year period, unlike a lease it can be sold or transferred to another person. If the person(s) granted the Usufruct dies before the 30 years are up, the property will be returned to the owner.
Here are a few facts to consider about a Usufruct Interest before choosing this as an option for ownership a home in Thailand:
The person granted the usufruct does not obtain the title to the property, nor can he/she sell or consume the property;He/she must take as much care of the property as a person of ordinary prudence would take of their own property;The foreigner granted the usufruct is not allowed to transfer the right of usufruct, but he/she is allowed transfer the exercise of their right under the usufruct to another person contrary to the right of habitation (the person granted a right of habitation can't transfer the exercise of his rights);The usufruct is not transferable by inheritance.
OPTION 5: BECOME A THAI RESIDENT/CITIZEN
Becoming a permanent resident in Thailand will allow your name to be on your house or villas registration documents. According to Thai Embassy you can become a permanent resident of Thailand through the following means:
You must have had a Thai non-immigrant visa for at least three years prior to the submission of your application. Holders of multiple non-Immigrant visas cannot apply. You must have 3 consecutive yearly extensions in order to qualify.You must be a holder of a non-immigrant visa at the time of submitting your application.You must be able to meet one of these categories to apply for PR status in Thailand:Investment category (minimum 3–10 million Baht investment in Thailand)Working/ Business categorySupport a family or Humanity Reasons category: In this category, you must have a relationship with a Thai citizen or an alien who already posses a residence permit as a husband or wife; father or mother; or a guardian of a Thai child under 20 years of age.Expert / academic categoryOther categories as determined by Thai Immigration
Becoming a Thai citizen will make the process of buying a luxury villa a lot quicker, but not something all foreigners will want to consider, if they are not looking to live in this country permanently.
OPTION 6: RECEIVE AN INHERITANCE OF LAND
If you inherit land you may be entitled to turn this into a residential property. Terms under section 87 of the Thailand Land Code state that only up to 1 Rai of land can be used for residential purposes. 1 Rai is approximately 1,600 Square Metres.
For more information about foreign land ownership from inheritance, visit Samui For Sale.
STEP 3: OWN YOUR VERY OWN VILLA IN THAILAND
Once you have decided which option is best for you, you will be on your way to becoming a Thai homeowner. It is advised to hire a reputable Thai property lawyer/solicitor throughout the buying process, to help communicate between the different parties and to do the title search and contract checks before you sign, to make sure that the home or villa you are purchasing is clean. They can also help you with the deeds involved in Thai property which otherwise can be complicated.
Here is a useful list of taxes and fees that will need to be paid when buying a villa for sale in Koh Samui.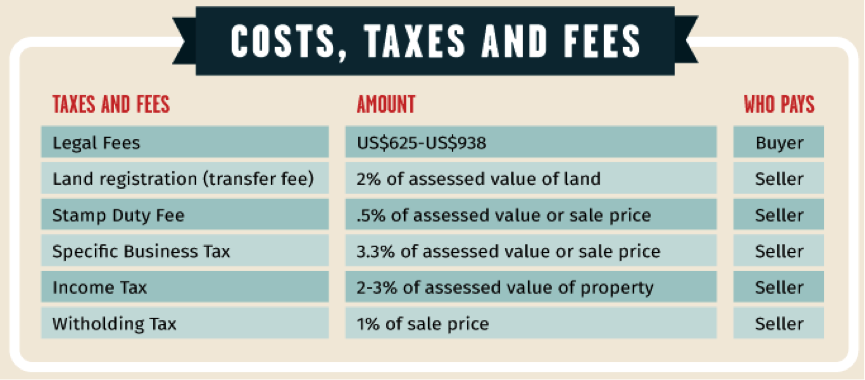 For more information on home or villa ownership in Thailand, visit Samujana, a luxury resort in Koh Samui. You can also check out our handy infographic on owning a house or villa in Thailand, packed full of useful information.