Thailand has hundreds—hundreds!—of islands. They are found in the Gulf of Thailand, the Andaman Sea, and in the dreams of the 27 million tourists that came to Thailand in 2013.
Let that sink in for a minute. 27 million people.
From all over the globe, people are traveling to Thailand to get a break from their regular lives and to have a taste of their own personal island getaway. The internet is full of their photos and their stories; they are all telling of the best places to go.
How do you pick your own perfect island getaway with all of these opinions out there?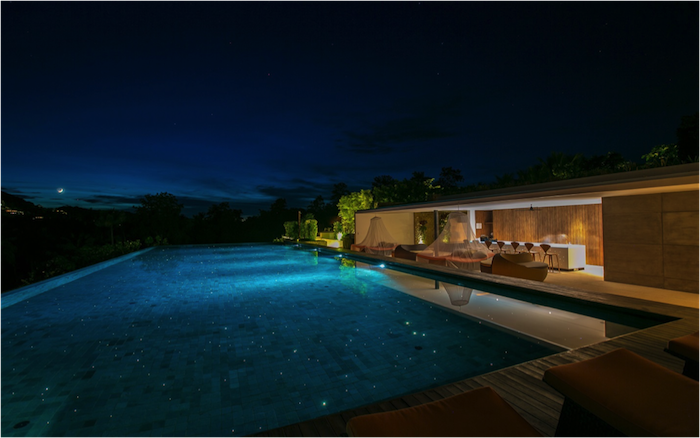 WHAT MAKES A PERFECT ISLAND GETAWAY?
Because Thailand has such a huge variety of things to do (eat, swim, snorkel, hike, shop, sail, beach bum, relax, sightsee…) and has become so incredibly popular, your definition of a perfect island getaway might differ from the next fellow.
It's likely that we can all agree on a few qualities of that ideal place, though. Any list of required qualities of a perfect island getaway would probably include:
1. Accessibility.
This is your vacation, and while you're looking for something out of the ordinary, you're not exactly signing up for extreme adventure. You'd like to go someplace where you can actually get there without too much trouble.
2. Freedom.
Here's a guess: people looking for the perfect island getaway are probably trying to get away from the rigid rules and routine of working life. Vacation, after all, shouldn't be lived according to a schedule on a clipboard. You definitely want to go somewhere that gives you the freedom to sleep in late, stay up late, or get up early and explore. There is no room for a strict and enforced schedule on a vacation and our villas were built with that in mind.
3. Fabulous Weather.
If you live in the northern latitudes of the globe, enough said. You want some place warm where you don't have to bundle up just to go outside. For the rest of you, the extremes of hot or cold aren't appealing, either. Let's all agree that we want to have some warm air stirred up by fresh ocean breezes and plenty of sun. That sounds like the perfect day.
4. Adventure.
We all crave a bit of adventure. Whether on land, on the water, under the water, or high on a hill, we're looking to make memories, take photographs, and tell unbelievable stories when we get back home.
5. People.
It's hard to have a good time and a great party if there are no other people around. For those of you who think that meeting new people is just about the best thing there is, having plenty of warm bodies around is a must. Without the attention from other people and opportunity to connect, even the sun won't be able to coax a smile on your face.
6. No People.
Let's face it, though. It's great to have parties and to hang out, but too many people is still too many people. What fun is a crowded beach or a noisy balcony full of people blocking the view and the breeze? There's no shame in admitting you also crave your own space and time away from the rest of the tourists. You have some appointments to make with you, a drink, and a brilliant moon over the ocean. No crowd invited.
7. No Stress.
A vacation is a terrible place to lose your cool. It's a reality, though, that vacations can be the source of a peculiar headache, one that is all wrapped up in planning, booking, travel arrangements, accommodations, and making sure everyone in your group is happy and occupied. No thanks. That perfect island getaway definitely needs to be stress-free.
Now, where can you find an island that's going to give you all of that perfection, and place to stay that you can think of as your own?
Samujana on Koh Samui: it's a match made in heaven.
WHY SAMUJANA IS A PERFECT ISLAND GETAWAY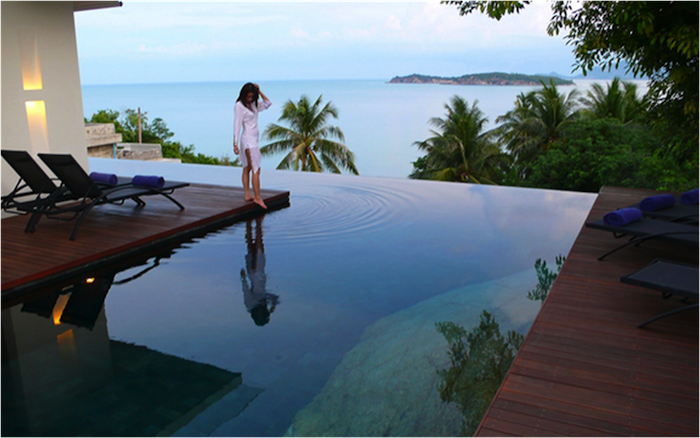 At Samujana, there is an infinity pool with your name on it. Are you still sitting there? Photo by Samujana.
Samujana meets all of the requirements of this list with quite a few to spare.
The best vacation is one where you've left the dreary routine back home so you can get to your new home away from home. Samujana has all of the must-have facilities that make this possible, such as kitchens (ready to try some Thai cooking on your own?), private infinity pools, television, Internet, and flawless views.
Let's make sure, though, that this really fits the bill for a perfect island getaway.
1. Accessibility.
Samujana is located minutes from the Samui international airport. Getting there will not be a hassle. Take that concern off of your list.
2. Freedom.
There are endless things to do, on your own and at your own pace. No one has an agenda for you at Samujana. Your stay in this private resort is completely at your leisure. What you say, goes. What a welcome change from your 9-to-5 life back home!
3. Fabulous Weather.
Koh Samui has a very short rainy season, leaving eleven amazing months of sun and warmth. Did we mention the popular beaches, because they combine really well with that warm, sunny weather.
4. Adventure.
Koh Samui has must-see coral reefs and the beautiful Hin Lat Waterfalls. If you're into even more daring adventure, Samujana has world-class instructors on hand to help you try your hand at windsurfing, fishing, and boating.
5. People.
Koh Samui is a favorite of tourists, and it's easy to get to popular nightclubs and restaurants from Samujana. When you're in the mood to meet people and have fun, you don't have to go far.
6. No People.
Ah, but Samujana is a gorgeous and private, nestled into the hills looking like they were meant to be there. When you want privacy, your residence is quietly waiting for you, with its own pool, beautiful breezes, decks, and lounge chairs. You and your family don't have to fight the crowds; in Samujana, you're back on your terms.
7. No stress.
At Samujana, we really want you to have that perfect island getaway, that vacation you can't believe is happening while you're still in it. Our staff is there to attend to just you. If you're traveling with children, you can relax knowing they are safe in bed in your residence, but that you can still have drinks out under the evening sky. Your night isn't cut short for any reason.
Consider this: when you rent a home at Samujana, what are you missing out on? You're missing out on the hassle and expense of hotels and crowded restaurants and accommodations. You're missing out the noise and crowds. You're missing out on cramped over-filled pools.
What you won't miss is the sunrise (you can see it every morning from every residence). You won't miss the ample personal space and private access to the popular beaches on Koh Samui. You won't miss the rush to stay on schedule to meet meal deadlines.
What makes that perfect island getaway?
Comfort, privacy, and the freedom to make your vacation exactly as you want it. We're here at Samujana, waiting for you to arrive.