Thai food has become popular around the world, and most people have had some experience with it in their own country in restaurants or at street vendors in city centers.
But, as any traveler would tell you, trying food in its country of origin is always better than trying it just down the block. As good as your local Thai restaurant might be, there's something about eating food where it was meant to be eaten. In this case, Thailand.
Coming for a visit and staying in Thailand? Here are ten foods you will not want to miss out on, and for those of you who are staying at Samujana, our chefs can here can compete with anything on offer across the best restaurants on the island.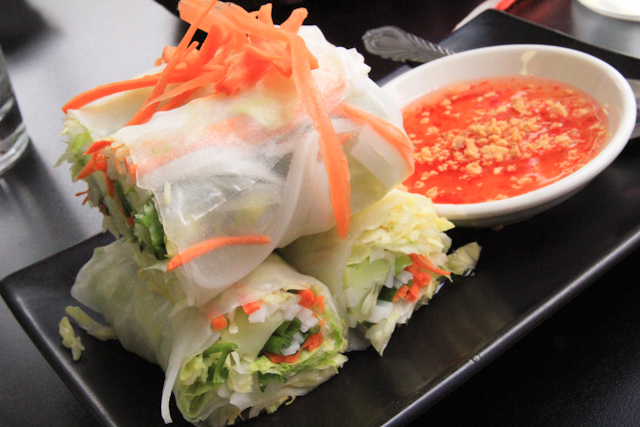 1. MANGO STICKY RICE
With a list of ten best foods, why not start out with the dessert first? Make sure mango sticky rice is on your plate at some point during your visit.
Sticky rice is common in other dishes; it is basically a short-grained rice that is cooked in such a way that it sticks together. This sticky nature makes it possible to form the rice into balls so that you can dip it in your favorite sauces.
Mango sticky rice, though, is one notch up. It is cooked in a sweet coconut milk, and then topped with fresh ripe sliced mango which is then drizzled in even more sweetened coconut milk. The flavors and the textures are a perfect match.
2. FRESH SPRING ROLLS
We're all pretty familiar with spring rolls, but in the west, we usually see them as a deep fried dish. The Thai version is much healthier, and also easier for you to make on your own if you're adventurous after your vacation is through.
Fresh chopped raw vegetables artfully mixed with herbs make up the heart of spring rolls. These ingredients are then wrapped up in a sheet of rice paper and served with a sweet and spicy dipping sauce. Shrimp is the most common meat, but you could request other alternatives (tofu, for example, if you do not care for seafood).
3. PAPAYA SALAD
Thai food is known for combining the four tastes: sweet, salty, spicy, and sour. Papaya salad is a perfect example of this artful mix (and, of course, is healthy). These four cornerstone tastes come from shredded papaya, tomatoes, sugar, chili, lime juice, and fish sauce. These are prepared by lightly crushing them together to mix the flavors.
It's a unique dish with a combination of flavors and tastes not common elsewhere; only in Thailand! Papaya salad is often made for you while you wait, so you have some say in how you want the final result to be.
4. KUAY TIEW
Kuay Tiew is, essentially, a savory noodle soup. It is about as close to a blank slate as you can get. Each vendor might have their own particular variation, and so, if you really love it, you can try a different version each time. Generally, you can expect a thin noodle (although some use a wider noodle), in a tasty broth featuring meat such as pork, beef, poultry, or seafood.
This is a dish that might leave you slurping a bit, as well as give your chopstick skills a worthy workout.
5. TOM YAM GOONG
Sometimes called Tom Yum Soup, this dish could almost be considered a "national aroma" due to the unique and flavorful herbs found in it.
Tom yam is a mix of hot and sour flavors with lemongrass, lime leaves, galangal, shallots, and chilis to give it a kick. You might find jumbo shrimp (goong), mushrooms, fish, or chicken added, giving body to the savory broth and herbs. As with most of the dishes you can find in Thailand, tofu can be substituted if you do not want meat.
Its rich aroma and spicy hot and sour taste make it a fine way to start your meal. Or, if you'd rather this be your main course, just pair it with some rice and you're all set.
6. KHAO MAN GAI
Khao man gai is Thailand's answer to the perfect mid-afternoon snack, sort of like "fish and chips" in Great Britain. This chicken and rice dish is served mainly during the day at restaurants and vendor stalls dedicated solely to khao man gai. The chicken almost falls apart, it being boiled to a perfectly tender state. Then, the same water that the chicken was boiled in is used to cook the rice to round out the flavor.
Delicious in its own right, adding traditional Thai sauces gives you full control over whether you're going to go sweet, spicy, or both.
7. PANANG CURRY
Thailand is known for fantastic curry, with red and green (spicy!) curry dishes quite common. In fact, you could almost make a "top 10″ list of Thai foods on just curry alone. Panang curry would definitely make such a list. The base of this curry is coconut milk, so it is quite rich and creamy, and will certainly fill you up.
You'll find the flavors of lemon grass, cumin, galangal, coriander, and chili in this curry. It usually comes with beef, but you can ask for a different meat (or tofu, if you're vegetarian) if that's what you'd prefer.
8. MASSAMAN CURRY
And speaking of curry…you'll want to try massaman curry while you're at it. Massaman is Thai for "Muslim", the culture from which this curry comes from.
It, too, has a coconut milk base, so it is hearty and filling. You'll find the rich flavors of cinnamon, peanuts, potatoes, bay leaves and tamarind, mixed with a bit of sugar. Because of its Muslim origins, the meat most often found in this curry is beef or chicken, but you can sometimes find pork as an option as well.
9. KAO PHAD
You know this dish quite well, most likely. Kao phad is, after all, fried rice. But hold on–this is Thailand we're talking about, a country known for its mastery of combining contrasting flavors. You can get your kao phad with your choice of meat (chicken and shrimp are the most common choices) with a variety of other additions. You'll likely find egg, cilantro, garlic, onion, tomatoes, and other herbs and seasonings.
As with most Thai dishes, you can spice it up with your choices of sweet, sour, or spicy sauces. Chili sauce is a perennial favorite.
10. PAD THAI
And last, but definitely not least, is pad Thai. This traditional dish is almost the signature dish you expect to find in Thailand, making it the true must-eat food when you come for a visit. It is made fresh in a wok for each serving.
Pad Thai is unique in that there are almost endless variations. Generally you'll find noodles decked out with bean sprouts, tofu, onion, and the ever present peanut. In this case, the peanut flavor comes in the form of a finely ground powder.
Pad Thai is perfect for those who want a bit of control over their dish. It arrives at the table "unfinished", meaning you can decide how much of the fish sauce, chili powder, and ground up peanuts you'd like to have.
—
While it's easy to forget anything but the amazing flavors and combinations you'll find in Thai food, let's not forget a couple of important qualities about Thai food:
1. Thai food is quite healthy. Its reliance on fresh vegetables and unique herbs are part of why nearly every dish you eat (save for the heavy fried foods) are good for you.
2. Thai food is fun to make. After you've gotten a taste for what you like, learning to make the food yourself is the ideal way to take Thailand home with you. Find a cooking class or great instructor, and learn the secrets of Thai food for your friends and family back home!