Sawasdee krub! Experiencing the best Thai cuisine in a luxury villa is an absolute treat for foodies. Thailand is known for its diverse and flavorful dishes, which are a reflection of its rich culture and history. Whether you are a seasoned foodie or a curious traveler, exploring the culinary delights of Thailand is a must-do experience
One of the most popular Thai dishes is Tom Yum Goong (Spicy Prawn Soup), a sour and spicy soup made with shrimp, lemongrass, galangal, kaffir lime leaves, and chili peppers. One of the most popular dishes in all of Thailand, this is a great way to get the meal started. In a hot and sour soup, the succulent shrimp really shine.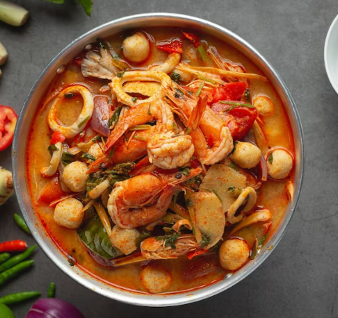 The next dish is Pad Thai (Thai stir fry), which is widely recognized as the most well-known Thai cuisine around the world. Noodles, shrimp, tofu, bean sprouts, egg, and a generous amount of crushed peanuts are stir-fried in this dish. Pad Thai is a dish that is guaranteed to please your taste buds due to the harmonious combination of sweet, sour, and salty flavors.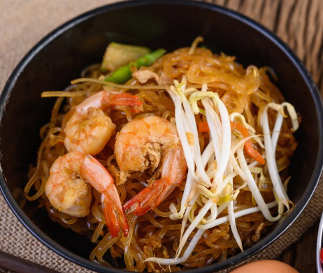 Massaman Curry is a must-try as well; it's a curry dish that consists of tender chunks of meat, potatoes, and peanuts cooked in a thick curry sauce. Allspice, cinnamon, and cloves are just a few of the spices that go into making the curry sauce, which gives this dish a rich and savory flavor.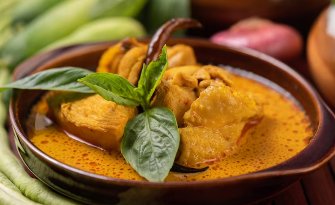 And finally, there's the Som Tam, a green papaya salad with a kick from chilies and lime juice that's both delicious and good for you. If you're looking for something light and refreshing, look no further than this dish, which is a staple of street food in Thailand.
Those are just some examples of the many tasty Thai dishes that can be enjoyed in the comfort of a villa. Whether you're staying in a villa on the beach or in the middle of the country, you won't need to venture far from your accommodations to enjoy some delicious traditional Thai dishes. If you're looking for a once-in-a-lifetime dining experience, we invite you to come and enjoy the Thai cuisine prepared by our private chef.
Samujana on Koh Samui, Thailand, serves more traditional Thai cuisine. For more information on Samujana Villas, email reservations@samujana.com or call +66 (0) 77 423 465.