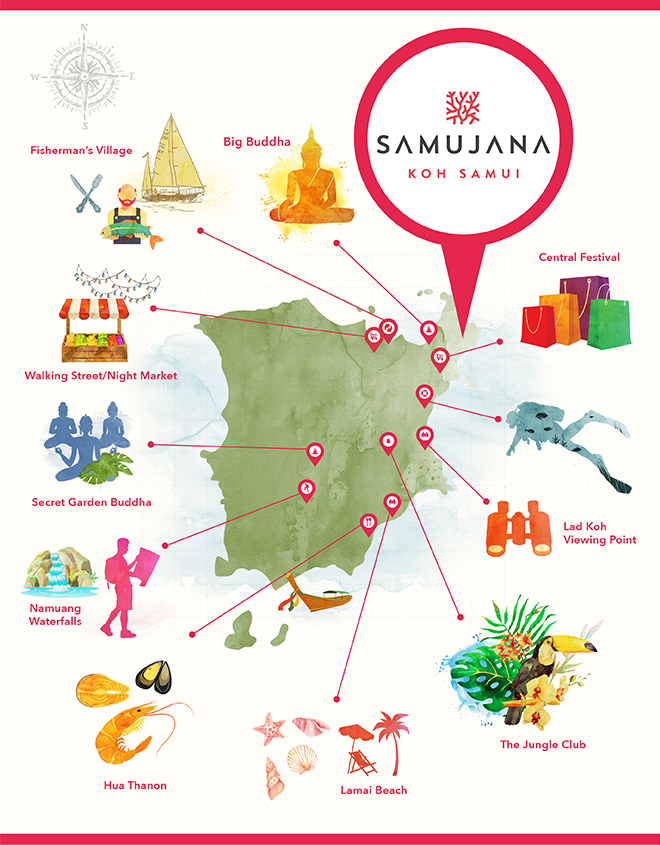 The moment when you soak up under the warm sunshine and sip your favourite coco drink (or that Piña colada refreshment!), that's the time you already know you are in vacation. But how will you know it'll be an even amazing trip? When everything is beyond your expectation already — you have that freedom of choice and the possibility of an adventure while visiting all amazing spots around the area.
Each trip starts with a journey. For this particular post, let us focus on the wonder that Koh Samui possess. A breath-taking island that effortlessly presents visitors with ample amount of luxe and adventure. We ask you now. How often do you get a chance to be at a place where authentic heritage blends well with the facets of modernity? Perhaps there are a lot but only few has the DNA of a truly magnificent place to be.
Samujana, composed of 24 upscale and distinctively-designed villas, is a fresh breath of air in the island of Koh Samui. Just 10 minutes away from the equally lovely eco-centred airport, each villa has literally everything you'll need: hi-tech amenities, personalised services such as your own chef, astounding scenic views, and more! Samujana is your own haven away from home.
While one would normally stay here forever, a few minutes break outside to stroll and visit others places is a must. Here are some of the places you can go to:
Fisherman's Village
For interesting finds, you might want to check out Fisherman's Village. Considered as the historical part of Bophut, this was once a fishing community. When the fishermen decided to change location, this village transformed into a place for quirky finds. Visit this spot every Friday to experience the Fisherman's Village Walking Street market.
Must-do: Shopping, nigh-market dining, interact with local sellers
The Jungle Club
For the best views of Koh Samui while dining out, go to The Jungle Club. Located in a hillside, the place lets you choose to dine in different spaces. If you like to have a Thai feel experience, one can choose to dine in their wooden deck. If you want to enjoy the space by yourself, they also offer individual pavilions.
Must-do: Sightseeing,dining
Central Festival
In true Koh Samui lifestyle, Central Festival offers guests with the contemporary side of the island life. Touted as the all-in-one shopping complex in Koh Samui, it is the biggest mall on the island with more than 200 stores. And in making sure the place covers everything the tourists will need, Central Festival has four major areas, namely: Bird Cage, Beach Town Market, Chaweng Port, and Fisherman Village.
Must-do: Play, dining, entertainment, shopping
Big Buddha
Once you visit Koh Samui, the first thing you will immediately notice is this large statue. Standing 12 metres tall, The Big Buddha or Wat Phra Yai as the locals would call it, is made of gold. The statue, in a Mara position, depicts the time when Buddha is concentrating on avoiding any temptations. The rays from the sun deflects the light making it impossible not to notice this big landmark.
Must-do:Sightseeing, shopping, religious activities
Secret Buddha Garden
For a quiet and magical experience, include the Secret Buddha Garden in your itinerary. Situated on top of a hill, statues of deities and animals can be seen here. If the view available from the top is not enough, the place is surrounded by lush greenery and fauna.
Must-do: Trekking, motor riding, sightseeing
Hua Thanon
One of the quietest parts of Koh Samui, Hua Thanonis not fully affected by the commercialisation happening around the island. Instead of lifestyle spaces, tall mosques surround the area. Located in the south eastern corner of Koh Samui, Hua Thanonis a quaint fishing village. Despite the lack of modern entertainment, the warm hospitality and sincere gestures of the locals will definitely make this trip memorable. Oh, did we mention that you can go to Grandmother and Grandfather rock formation from Hua Thanon.
Must-do: Kite Surfing, interact with local fishermen, fresh seafood dining
Grandfather and Grandmother rocks
Known as Hin Ta and Hin Yairocks, this natural wonder is a source of comic relief and laughter to all visitors. It got its name for the unusual resemblance of the rocks to the human anatomy (You'll discover it once you go there).
Must-do: Sightseeing, quick frolic by the beach
Chaweng Beach
The most popular resort town and beach area in Koh Samui. Chaweng offers travellers with cool, clear waters and fun-filled entertainment for everyone. It is also great to note that this is also the place to be for nightlife parties. If you want to enjoy lively and upbeat activities, better visit Chaweng.
Must-do: Swimming, scuba diving, party, dining, shopping
Namuang Waterfalls
Nicknamed, "Purple Falls", Namuang Waterfalls gives you a sight to behold. Upon reaching the place, it is impossible to resist not swimming right in the middle of the cold waters. Or if you do not want to swim, just silently gazing at this natural wonder is enough to fill your traveler bug symptom.
Must-do: Hiking, swimming, sightseeing
Lad Koh Viewing Point
Another spot that offers a spectacular bird's eye view is Lad Koh view point. Within your view is the stunning blue waters of the Gulf of Thailand. A quiet spot to enjoy the scenery, travelers are also welcomed by some delightful home-made sweets available in Lamai.
Must-do: Sightseeing, dining
While Koh Samui is just an island, it truly has everything to keep you feel at home and entertained.