In Koh Samui, the hottest months are usually March, April, and May. And you know what it means to have a 30°C+ temperature — sticky feeling due to constantly perspiring, dry and patchy skin, and sunburn. Plus, it is said going beyond the temperature can cause serious health problems such as heat exhaustion.
Speaking of which, did you know that there are people who can get sad during summer. In psychiatry, this kind of behavior is called seasonal affective disorder or SAD. While you may wonder why anyone could be depressed when the sun is out, there are studies suggesting it may be linked to excessive heat or that sleep cycle is affected by an earlier sunrise.
According to Professor Ian Cook, there are other several reasons that might be the culprit. One of these is body image issue. Since layering clothes during summer is not an option and that water activities are a boom, there are people who are extremely conscious in wearing swimwear. Wonder how it is like to have summertime depression? Summertime depression brings about insomnia, weight loss, sleeping problems, and anxiety.  The top remedy for to combat any symptoms of summertime sadness is to, of course, seek professional guidance.
Should this be a simple case of not being a fan of hot weather, then here are some of the ways to help you have a fun time in summer:
A summer starter pack ready
If you can't avoid going outside, better have some things readily available to help lessen that feeling of heat. Any form of hat will block direct sunrays to your face. It is also a great fashion piece to complete your summer look!
Put on SPF (Lots of it!)
This is the part where everyone should be diligent. Sun Protection Factor or SPF basically offers protection from UVB rays that causes skin cancer and sunburn. There are different forms of SPF in the market already. If you don't like using heavy-textured lotions, spay-type SPF are also available.
Stay hydrated
Koh Samui is a tropical island with lots of fruits to choose from. A fun way to quench thirst and to also avoid dehydration is to drink lots of coconut juice! Along the Chaweng beach, there are several restaurants offering some of the best shakes and fruit punches. Avoid drinking caffeine when necessary.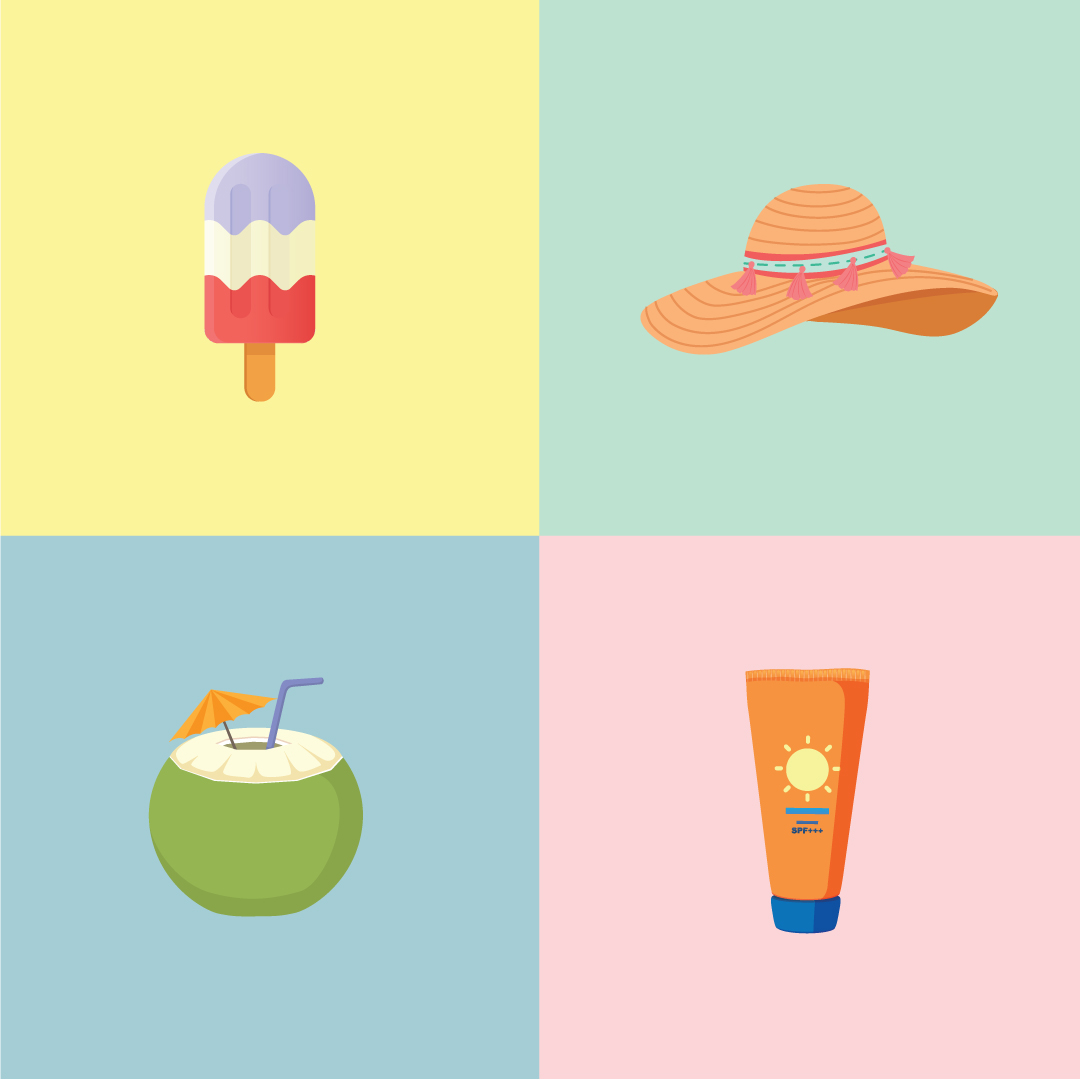 Keeping it Light
When going outside during summer, it helps to wear light clothes. Materials such as cotton, rayon, linen, silk, chambray are perfect for the warm season. In addition, light-coloured garments reflect the sunrays thus less heat is directed to the body.
Find a cool spot
It also helps that Koh Samui has a lot of trees which can serve as a shade from the harsh sunlight. With lovely sceneries around the island, it won't be a waste to sit in for a few minutes, observe the crowd, before heading out to enjoy your day.
Take multiple showers
Or just dive right into the crystal blue waters of Koh Samui. One of the famous spots in Koh Samui is Chaweng Beach. It is the perfect spot to swim and get your daily fix island entertainment. If you want something more majestic, then the island just has the perfect place. Nicknamed, "Purple Falls", Namuang Waterfalls gives you a sight to behold. Upon reaching the place, it is impossible to resist not swimming right in the middle of the cold waters. There are also different dive sites near the island and is easily accessible by day trips from Koh Samui. Among the most famous is the sites are the places around Koh Tao and dive spots in Ang Thong National Marine Park.