Not sure when to make your trip to Thailand and Koh Samui?
Thailand definitely has its peak seasons. If you were to visit Thailand from November to March (with January and February being the height of the peak), you'd experience that enviable warm weather and you'd also experience larger crowds.
Not everyone is a "peak season only" traveler. Some of us aren't bound by temperate weather, aren't particular about rain, or don't want to feel hemmed in by lots of people everywhere we go.
For the traveler who shrugs their shoulders at the peak season, good news: Thailand has a lot to offer you all year 'round. Before you book your villa and hop on a plane, it's a good idea to learn a bit about the best time to travel to Thailand.
TRAVELING DURING OFF-PEAK SEASON
Not everyone is a beach-goer, and if that is you, May through August are a great time to visit. It's not peak season, and it's not as rain as September and October, which are the wettest months with very high humidity.
November and December is when the weather starts to play a bit nicer, and while you aren't guaranteed to have no rain, the rush of peak season is just getting started. Prices and weather are fairly cooperative, and crowds haven't swelled as much.
Why would you go during the off-peak season? There are many reasons you might want to experience Thailand when it isn't the peak season to travel.
You Want To See Monuments
Thailand is known for its many Buddhist temples, historical sites, and national parks filled with flora and fauna unique to this country. If you are a traveler who is interested in experiencing this side of Thailand, you have much more leeway when it comes to off-season traveling. Weather won't matter as much; you're not looking to spend it on a beach in the sun.
While you can certainly see these sites during peak-season, you may want to take advantage of other off-peak perks.
You Want To Save Money
Saving money is one of the top reasons many people travel during the less popular months in Thailand.
You'll be able to travel on a bit less if you choose to do it during the off-peak season. Prices on travel and lodging, and other popular activities, does increase during the peak tourist season.
You Want To Avoid Crowds
During the peak season, many of the most well-known beaches are crowded. You'd still have a great time, but perhaps being surrounded by people isn't how you want to spend your vacation. Ideal beach weather doesn't happen in the heart of off-peak season, but you'll avoid crowds in general whether on the beach or not.
VISITING KOH SAMUI
The beaches of Thailand are likely the first thing that comes to mind when thinking about this unique country, but there are more than beaches to see, and there are beaches that are off the beaten path.
Koh Samui, the most popular island in the Gulf of Thailand, has those beaches, but much more things to do in Koh Samui that just sunbathe. With convenient access by ferry or airplane, it is an island that is easy to get to. It is known for an abundance of water sports, sailing, spas, fantastic restaurants, golf, and beaches. There are even elephants to see, and plenty of historical and religious sites as well.
Whether you are traveling during the peak season or not, there will be something to do on Koh Samui.
Ang Thong National Marine Park
Reachable by boat from Koh Samui, this 42-island archipelago is the real inspiration for "The Beach", that popular movie that was filmed on Koh Phi Phi. It is an almost otherworldly place to dive, snorkel, kayak, or just lie on the beach.
You'll definitely want to take in Maekoh, an island with an emerald green inland lake. You'll get some great exercise climbing on the island and up to the best view of the lake.
Beaches On Koh Samui
There are many beaches on Koh Samui to choose from, ranging from popular and high-energy to secluded and quiet.
If you like a lot of action and energy, Chaweng Beach is the one for you. It has the highest concentration of lodging and nightlife. The sand is white, the water turquoise, and there are lots of people to meet.
Next up is Lamai Beach. Though not quite as busy as Chaweng, it is still popular, especially for families who might not want the nightlife so nearby.
There are other beaches, including Choeng Mon, Bophut, Lipa Noi, and Maenam, each with their own amenities and activity levels. But, if it's a quiet and secluded beach you want, then Taling Ngam is the one for you. It's in a remote corner of the island with views of Ang Thong National Park. This is not a beach with nightlife or action.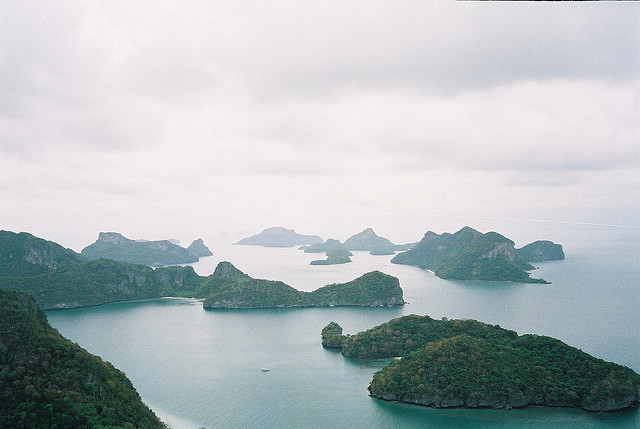 KOH SAMUI FESTIVALS AND EVENTS
Thailand has an endless list of fun cultural events, and Koh Samui is great about celebrating almost all of them.
Buffalo Fighting Festivals
In the Thai version, the bulls are not killed and they fight each other instead of a matador. These fights occur during several events, such as Songkran. The bull fighting stadium is located in Nathon town, and if you attend a fight, you'll see the animals decorated and blessed by holy water.
Songkran Festivals
These festivals occur in April, when Thai citizens exuberantly celebrate their new year by splashing and dousing each other with cold water. April in Thailand is a very hot month, and you probably wouldn't mind getting cold water dumped on you. If you don't want to get wet…you'd better stay in your room. Keep your electronic devices protected. Nothing is spared from this dousing!
This festival is popular with tourists, so expect crowds. It's a lot of fun and you'll never experience something quite like it anywhere else.
The Thai New Year is only one of three celebrated in Thailand. You'll also have the chance to celebrate Chinese New Year (early February), and the traditional western new year at the start of January, though they are not celebrated with cold water!
Loy Krathong
This is the festival of light, based on the lunar calendar and celebrated during the Full Moon in November.
Participants purchase Krathongs, small, decorated boats that contain three sticks of incense, a coin, a candle, and a few other items. Once the candle is lit, the boat is placed in the water. It's a beautiful ceremony, and on Koh Samui, it takes place near the Big Buddha.
Royal Birthdays
When the birthday of the King and Queen are celebrated, you'll be guaranteed to see a magnificent fireworks display. The Queen's birthday is on August 12 (also Mother's Day in Thailand), and the King's birthday is on December 5 (Father's Day in Thailand). Special celebrations and displays are common on these days.
—
You can come to Koh Samui during the peak season and enjoy the sun out on a beach full of fun-loving travelers, or during the lower density months for peace and solitude. Thailand is a country that has something for everyone to do at any time of the year.