Thailand is a nation of of islands.
So many islands, in fact, that the exact number continues to be debated, depending upon how you're accounting for the islands. Some islands are tiny, some have popular resorts, some are protected national parks, and some islands are even for sale.
With an endless selection of islands to visit, where should you go? Which are the must-see islands?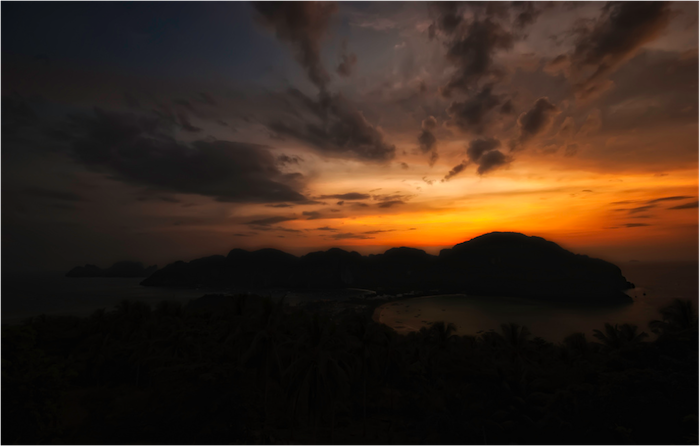 PHUKET
The most popular and well-known island in Thailand is Phuket. It connects to the mainland via bridges as well as having a busy airport, making it very easy for the crowds to find their way in and enjoy a little island culture without having to deal with more challenging transportation in order to do so.
Who will you find in Phuket? People who love nightclubs, beach bums, shoppers, tourists, and honeymooners. In other words: everyone.
Phuket has a little bit of everything for everyone. Be aware that you'll find prices go up during the peak seasons, so plan accordingly. Don't let that keep you away, though. Phuket has so much to; do some research beforehand so you know what activities to take in, or where the best shopping can be found.
KOH PHI PHI
Koh Phi Phi is the island made famous in the movie The Beach. It has been completely rebuilt from the 2004 tsunami, which devastated the island, and is even better than before.
You'll find the gorgeous green jungle and craggy rocks that Thailand is famous for, but it is by no means an island just for relaxation. Koh Phi Phi has a fun-loving vibe to it, and you'll find a bit of a quirky mix of budget-minded backpackers, resort-loving tourists, and sun-worshippers on the beach.
There's a reason a movie about a beach was filmed at Koh Phi Phi, though. It has great beaches, and the unique tides often create warm and shallow areas for swimming, almost your own outdoor beach swimming pool. The island has a unique shape, with a narrow band that almost pinches the island into two, making it possible to see "across" the island easily.
KOH LANTA
This is actually a group of islands found in the Krabi province of Thailand. The largest island is often known as Ko Lanta, and the western coast of this island has a decent variety of resorts and bungalows that you can stay in.
This island (and the smaller nearby islands) is popular for those who love the water, catering to snorkeling and scuba divers because of the coral reefs and rich ocean life. Long Beach is particularly attractive, getting its name from a long strip of soft sand that falls away to deep water and makes it a great place to swim.
The islands themselves are no slouch for nature-lovers. Even if you don't want to submerge yourself in the ocean, you can enjoy sections of ancient rainforests still in place.
Here's the great part: Koh Lanta is close to the very popular Phuket and Koh Phi Phi, but it is much quieter and not as developed or aimed towards those who are looking for more of a party destination. It might make a nice "vacation" from your Phuket vacation.
KOH LIPE
Koh Lipe is found in the Adang-Rawi Archipelago in southwest Thailand, visible from Koh Lanta.
It is a fairly small island, so it is completely probable that you can enjoy walking around the entire island in one or two hours. In fact, there are no cars and only a handful of motorcycles, so silence and stillness are the norm. Plus, the water around the island is clear and calm, and relatively shallow. This is perfect for those who are less adventurous swimmers, or for families.
Because Koh Lipe is not inside of a National Park, you will find a accommodations that vary from a basic grass hut to an air-conditioned villa. Looking for small, quiet, and personal, but still want some modern comforts without giving up that feeling of "roughing it" on the beach? Koh Lipe is a great island for you; it has not yet been heavily developed. Late October through May are your best bets for getting to the island.
KOH SAMUI
Koh Samui is a large island, which allows for both the fun parties and places to escape for solitude. The most popular beaches on the island are Chaweng and Lamai. Chaweng beach has four miles of soft sand bordered with coconut trees, and the clearest water of all the beaches. It's a very busy beach, perfect for those who like having a lot going on around them. Lamai is a busy beach as well, but not nearly like Chaweng. There are many other beaches on this large island, too, if warm sand and the ocean are the main goal for your vacation.
Being one of the more luxurious Thai islands make Koh Samui one of the most popular honeymoon destinations in South East Asia, as it really does tick all the boxes.
Koh Samui also has several cultural events during the year that are a must-see, such as the Buffalo Fighting Festival, or the Ten Stars Samui Art Party. There are also street fairs, sailing regattas, and even triathlons. This is an island with an enjoyment of culture both on the land and on the water.
Some refer to Koh Samui as the "quieter" version of Phuket, but with resorts, an international airport, plenty of restaurants and nightclubs, and gorgeous villas, it certainly can't be considered boring. Koh Samui is very popular with families and traditional travelers and tourists.
KOH PHANGAN
If people, backpacking, and wild parties are your thing, this is the island for you. The island is famous (or maybe the better word is "infamous") for its somewhat hedonistic Full Moon Party on the beach where you can find upwards of 15,000—yes, 15,000—people partying mostly in the Haad Rin peninsula.
The island is more than just partying, however. It's the King of Thailand's favorite island, and has many fabulous resorts and hidden gems to find through exploring on your own. You can avoid the massive party and still enjoy the island, which is also known for its temples and Mediterranean spa culture.
KOH TAO
Though Koh Tao is quickly growing and increasingly seeing more development and a greater influx of tourists, it is still the island best known for its natural adventures rather than its modern ones.
Koh Tao is one of the most popular places in the world to become a certified scuba diver, with an island culture catering to outdoor recreation. Like rock climbing? Hiking? Diving? Snorkeling? Fishing? If so, Koh Tao is the island for you.
KOH TARUTAO
Koh Tarutao is one of the most "unspoiled" islands in Thailand. It is one of 51 islands that make up the Tarutao National Marine Park archipelago, and because of this, has not seen the levels of development that other islands have experienced. You can still visit the island, however, if you don't mind more primitive campsites or quaint bungalows that you can rent.
Silence and pristine beauty are the signature of Koh Tarutao, famous for its spectacular mountain and jungle scenery, as well as the opportunities to catch a glimpse of wildlife (large turtles, for example). There is a concrete road the runs through the middle, making the island fairly accessible..
AN ISLAND FOR EVERYONE
The beauty of a vacation to Thailand is in the options you have when choosing an island.
Each island has its own charm, whether a natural and untouched appeal, or the fun and excitement of nightlife and modern accommodations. There are enough islands to appeal to everyone in Thailand.
In other words: don't worry. There's a perfect island waiting for you in Thailand. Maybe you've already found it, and can't wait to come back.